Peer Support Group wrap up - March 2022
QDN team members, Olivia and Kat went to Far North Queensland!
Olivia and Kat spent a week in Far North Queensland supporting our three Peer Support Groups, building and broadening local community connections and awareness of the work of QDN's Peer Support Groups.
Over the week they supported three peer groups meeting with 17 QDN peer group members and over 40 community service providers and 3 regional councils. They connected with new and past emerging leaders and worked with QDN's new QDNY Group Convenor Jasmen to create a short video. While in Cairns they also met with stakeholders who are keen to support the Cairns Yarning Circle meetings in 2022. They flew over 5370kms and drove over 200km to connect with our members!
Normanton Peer Support Group
QDN joined Normanton Group Convenor, Tony Melksham for their Peer Support Group meeting at Normanton Shire Hall. The group were joined online by Jaden Fisher, Assistant Director, First Nations Engagement who shared information about Royal Commission into Violence, Abuse, Neglect and Exploitation of People with Disability and how members could be involved. The Normanton Peer Support Group will continue to meet regularly on the third Tuesday of each month at 10:30am at The Shire Hall.
Tablelands Peer Support Group
The Tablelands Peer Support Group had their first meeting at the new venue, the Mareeba Library. Group members brought along their personal digital devices and QDN facilitated a discussion on accessibility and online safety. The group were keen to continue this discussion on digital devices at the next meeting. The Tablelands Peer Support Group meet bi-monthly on the third Wednesday of the month at 10:30am and will alternate meeting locations between Atherton and Mareeba.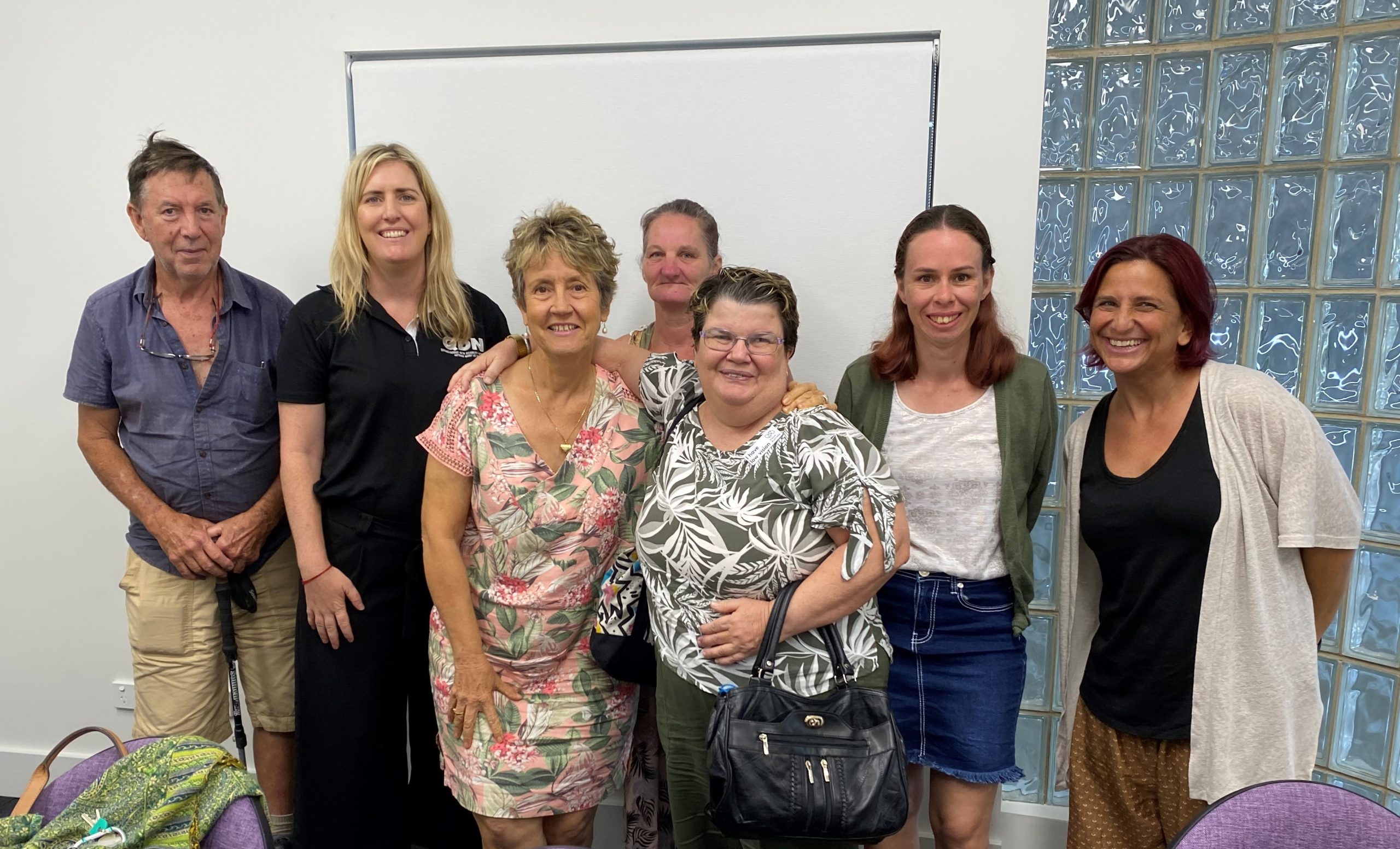 Cairns
The Cairns Peer Support Group held their meeting at the Cairns City Library. The group discussed the impact of COVID-19 on the local community, services and how this has impacted them as a group. The group also discussed the National Disability Insurance Scheme (NDIS) with a focus on plan reviews and what that meant for group members plans.
Do you want to join a Peer Support Group?
Our Peer Support Groups connect people with disability to get together to talk about the things that matter to them. They are places for sharing experiences, exchanging information, and connecting with people with disability in the community or around a shared topic or issue. Peer Support Groups are also leading and influencing change in their communities. They are an avenue for people with disability to have a voice on important issues such as housing, health, transport, NDIS, education and employment. If you would like to know more information contact QDN on 1300 363 783 or email peersupport@qdn.org.