QDN e-News Video Update - August 2022 Week 3
QDN's 20 Years
We are looking forward to celebrating with members and our stakeholders our 20 years. Stay tuned for what will be happening and how you can join in. It is an important time for us and a time to reflect on how far we have come as an organisation and celebrate it. Will have a regional focus on celebrations too and we will let you know those details shortly.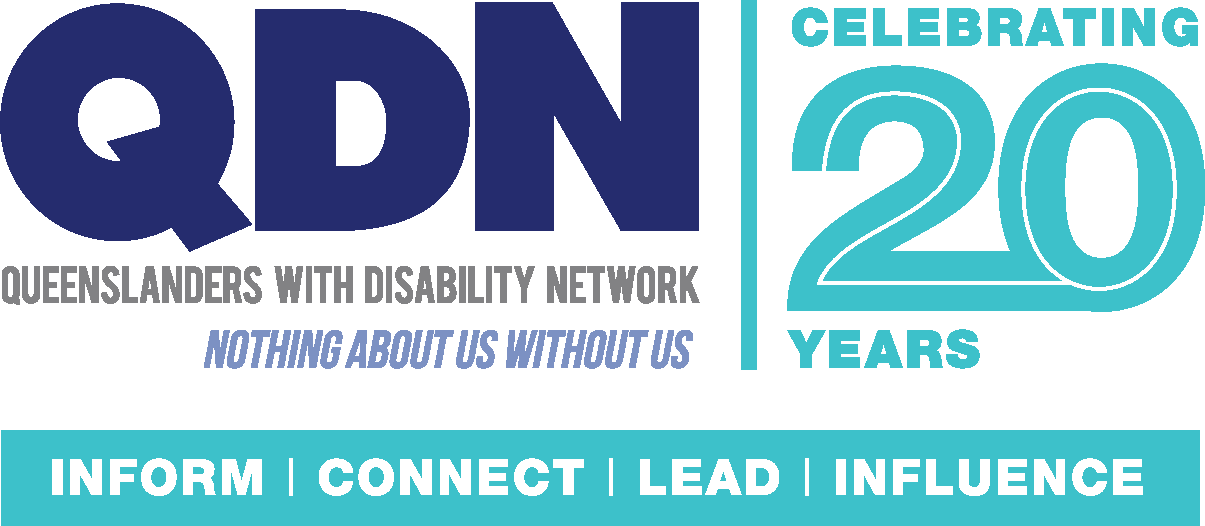 National Disability Summit
Michelle Moss, Acting Chief Executive Officer on a panel this week at the National Disability Summit talking about QDN's work and leadership by people with disability in Person Centred Emergency Preparedness (PCEP). With colleagues Angela Cook, Victorian Country Fire Authority, A/Prof Michelle Villeneuve from Centre for Disability Research and Policy, University of Sydney, Gail Rogers- Specialised Speech Services and Andy Maller, Cairns Support Coordination. It was moderated by  Jess Lane, from Community Lifestyles Agency and Minister Bill Shorten gave the opening address and outlined his plan and priorities for the NDIS.
For more information on P-CEP click here  »
Employment Summit
The Jobs and Skills Summit will bring together Australians, including unions, employers, civil society and governments, to address our shared economic challenges. Led by the Prime Minister and Treasurer, and supported by other key ministers, the Summit will recommend immediate actions and opportunities for medium and long-term reform. Although Summit attendance will be limited and invitation only, Treasury will invite submissions and engage the wider community over the next 12 months. Submissions to the White Paper will open later in 2022.
Digital Inclusion Project launches in Townsville
Townsville we have launch our Digital Inclusion Project in your area. We want to help people with disability get online. We know that being online is especially important during a natural disaster like floods, cyclones, fires or now during COVID-19 pandemic.
People with disability need to be able to get the facts and information, keep getting essential goods, services and support like food, medicine, healthcare, disability support and staying connected to family, friends and workers.
Homelessness-Inclusive Disaster Risk Reduction (HIDRR)
The Homelessness-Inclusive Disaster Risk Reducation (HIDRR) project is bringing together people with lived experience, housing and homelessness service providers and local disaster management. The aim is to co-design tools and collaborative processes that can be used for disaster planning and preparedness for people experiencing homelessness and the organisations that support them at each phase of disaster.
This project is lead by the Centre for Disability research and Policy at the University of Sydney and conducted in partnership with QDN and the Community Services Industry Alliance.
This project is proudly supported by the Queensland Government through the Queensland Resilience and Risk Reduction Fund (QRRRF) and the Department of Communities, Housing and Digital Economy.
Workshops with community will be starting in the next month to connect people with lived experience of homelessness, housing and homelessness service providers, and local disaster management to work towards homelessness inclusive disaster risk reduction. More information to follow soon.
Building Inclusive Disaster Resilient Communities (BIDRC)
QDN met with the Mayor of Southern Downs Regional Council (SDRC), Mayor Vic Pennisi to discuss the Building Inclusive Disaster Resilient Communities (BIDRC) Project.
BIDRC is a community-led initiative. Our role is to bring together and support key stakeholders - people with disability, local Council, emergency services, disability service providers, and other local community leaders to co-design and co-lead local strategies and initiatives to increase community resilience to disaster.
For more information give us a call on 1300 363 783
To find more information on BIDRC click here »

Policy Wrap Up - 8th to 19th August 2022

 
Disability Royal Commission: Boarding houses, hostels, couch surfing to be examined in homelessness hearing
People with disability who have experienced homelessness will be the focus of the next public hearing held in Sydney at the end of August. It will look at evidence from people with disability across NSW who have experienced rough sleeping, couch surfing, living in boarding houses and other types of insecure accommodation. Evidence in Victoria will look at privately operated businesses licensed to provide accommodation and support for people with disability.  
The pathways and barriers to secure, safe and accessible housing will also be explored. 
For those who would like to tune in online, the hearing will also be broadcast live via the commissions website. 
Listen to the broadcast here »
Disability Ministers across Australia agreed that a return to the original objectives of the NDIS is needed to improve participant outcomes
At the second Disability Reform Ministers Meeting (DRMM) on 29 July, chaired by Minister Shorten, there was agreement that the original objectives of the NDIS need to be restored. There was a commitment to consulting with the sector on the scope, principles, and approach to the review of the NDIS, which has been brought forward to this year (2022).  
The DRMM also looked at how Covid-19 preparedness and vaccination rates can be improved, hospital discharge times for people with disability into appropriate housing.  Ministers also considered the issue of choice and control in employment for people with disability, specifically related to people working in supported employment and agreed to future work in relation to these issues. 
Find more information on the Australain Government website here »
Find more information on the NDS website here »
Adult Safeguarding in Queensland: Volume One released by the Public Advocate
After extensive consultation, the office of the public advocate has released the first volume of two into its investigation into adult safeguarding across QLD for people who are 'at risk'. The report identifies where adult safeguarding 'gaps' exist. The OPA held a series of roundtables across the state, and also through consultation with services and people with lived experience of disability. QDN hosted one group and also contributed through the development of case studies. You can find a copy of Adult safeguarding in Queensland: Volume 1. Identifying the gaps here.
Criminal Procedure Review - Magistrates Courts
The review of Criminal Procedure Laws in QLD Magistrates Courts has released an Easy English document to help broaden peoples access to information about the review.  
You can find a copy of the Easy English document below.  
Although submissions in response to the Consultation Paper have now closed, general submissions about the review (including in response to the Easy English paper) are open until 31 August 2022. 
More information on making a general submission here »