Local Group Convenor Meets Prime Minister to Discuss NDIS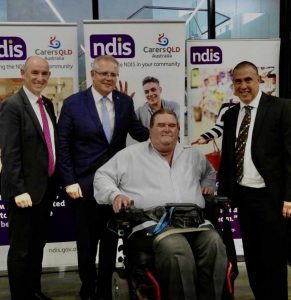 QDNs Local Group Convener in Caboolture and QDN Appointed Board Director, Matt McCracken, was one of four special guests invited to meet with Prime Minister Scott Morrison and Minister for the NDIS and Government Services Stuart Robert to discuss the NDIS on Tuesday 8 October, in Caboolture.
The focus of this meeting was to discuss NDIS challenges and areas where the NDIS can improve.  Matt said there was discussion around the difficulties in accessing the scheme, accessible, affordable housing, people's understanding about activating and managing their plans and the struggles people have with finding assistance to guide them and support them to achieve their goals.
Matt talked about the key role that people with disability need to play in getting the NDIS right for participants and the sector more broadly and the importance of lived experience of disability, 'nothing about us without us.' Matt also raised key issues that Queenslanders with disability have been sharing with QDN about what they need, including the opportunity to review plan information before the plan is final, more streamlined approaches to reviews when things aren't right in people's plans and the need for quality support coordination. Another area that Matt discussed was support, information and guidance to be able to activate NDIS plans, active support so people know how they can achieve their goals and the impacts this has on participants and their families who are still struggling to understand the scheme and where to find supports.
Matt said the Prime Minister and the NDIS Minister were both responsive to the discussion and took everything on board. QDN looks forward to continuing to work with Prime Minister Morrison, Minster Robert and the Commonwealth Government in delivering an NDIS that works for people with disability and their families, carer givers and the sector and achieves the aims of the scheme and the change in people's lives it was designed to deliver.