Instructions for downloading the video transcript
Open the video in YouTube. Click on 'More Options' (three dots below the video on the right-hand side). Select 'Open Transcript' from the drop-down menu that appears. Once you click 'Open Transcript', copy and paste all the lines of text to an editor of your choice to have a complete transcript that you can edit.
Welcome back to another edition of the QDN e-News.  
Help shape Queensland's rental laws
A review of Queensland's rental laws is underway to ensure the rental needs of Queenslanders are met now and into the future. The Queensland Government is seeking feedback on potential reform options.
Feedback is being sought on proposed changes to tenancy law including:
Installing modifications
Making minor personalisation changes
Balancing privacy and access
Improving the rental bond process
Fairer fees and charges
We are encouraging members to have their say on the Options Paper via an online survey or by providing a written submission.
You can provide feedback to the questions raised in the options paper by:
Renting in Queensland
Housing and Homelessness Services
Department of Communities, Housing and Digital Economy
PO Box 690
Brisbane QLD 4001
For more information visit www.qld.gov.au/rentinginqld or call 13 74 68. Submissions close 5pm, Monday 29 May 2023.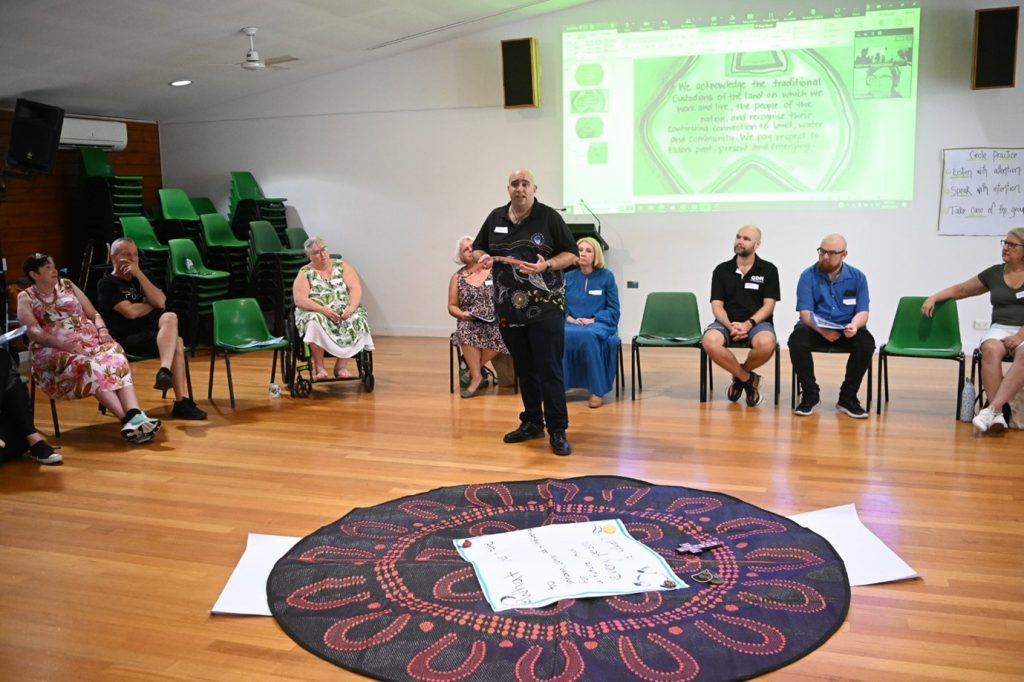 Emerging Leaders off to a great start to 2023 program
The first workshop for the 2023 Emerging Leaders program happened on the 28th and 29th of March. There were 20 Emerging Leaders who attended the workshop who came are from areas all across Queensland, who all have a range of diverse backgrounds and passions in the disability and mental health sectors. All are keen to develop their leadership and advocacy skills and start to Inform, Lead, Connect and Influence in their lives.
The workshop was opened with a welcome to Country by 2021 Emerging Leader Cody Skinner who welcomed the group in AUSLAN as well as teaching the group some Aboriginal Sign Language.
Excitingly, this year's group will add to the over 50 QDN Emerging Leaders! The 2023 Emerging Leaders are keen to get involved with QDN's many projects so don't be surprised if you see one of this year's Emerging Leaders consulting for QDeNgage, blogging as a QBlogger or at your next Peer Support Group meeting.
NDIS Review | QDN member forum
As part of our work to inform the NDIS review, QDN is hosting an online forum on Friday 12th May for interested QDN members. The forum will cover a broad spectrum of NDIS elements including Home and Living, the interface between the NDIS and mainstream services such as Health and transport and the NDIS Participant Journey including getting onto the NDIS, plans and reviews as well as getting the supports you need.
We want to work together to ensure that our input into the review can improve how the NDIS delivers appropriate supports that work for people with disability and the services that support them.
Please join us to contribute your voice and experience and inform feedback to the NDIS Review processes.
When: Friday 12 May, 9.30-12.00pm
Where: Online via Zoom
Zoom link: https://us06web.zoom.us/j/82599148863?pwd=ejdmNGZSWFd0dVY0VDlSYmJJbk5ZQT09
For more information, contact QDN at qdn@qdn.org.au or 1300 363 783.
Redcliffe Hospital Consumer Experience survey
The Redcliffe Hospital is seeking your feedback on your experience on being a patient or carer at the Redcliffe Hospital. This short survey has been co-designed with QDN, and is a chance for you to add our voice.
The survey is open to people in the Moreton Bay Region or patients or carers who have presented to Redcliffe Hospital. We are looking for answers from everyone including people with disability, their family members and carers, disability service providers, and peak disability organisations.
The survey can be found here: Redcliffe Hospital Consumer Experience.
You can complete the questions via the link above, or we can support you to communicate with someone one-on-one if you have other ways of communicating.
Opportunity to share your experiences of navigating NDIS reviews and appeals
Researchers at Griffith University in Brisbane are looking at the decisions and decision-making processes that determine reasonable and necessary NDIS funded supports. The project is called Adjudicating NDIS Rights.
If you're 18 years or over with a NDIS funded support package and live in Greater Brisbane or North Queensland, we want to hear your experiences of requesting and undergoing a review or appeal of your funded supports.
The research team would like to learn about what's working well for you and where challenges are by engaging with you in an interview (in-person, via phone or online). This project has ethical approval by Griffith University (2020/137). All information provided by you to help inform this project will be confidential.
To find out more please contact:
Eloise Hummell
Email: e.hummell@griffith.edu.au
Phone: 0404 458 894
In the news: People with disabilities waiting hours for a taxi as drivers caught rejecting bookings
QDN recently spoke with ABC News about the shortage of accessible taxis and long wait times, an issue we know is very important to a lot of our members.
Read the story here: https://www.abc.net.au/news/2023-04-16/qld-wheelchair-accessible-taxi-licence-transport-forum/102171750
Michelle was also featured in the on-air news story on Sunday 16 April, you can watch the episode on ABC iview. Please note you will need to have an ABC iview account to watch.
Watch here: https://iview.abc.net.au/video/NU2305Q106S00
Brisbane Home and Living forum recap
On Friday the 14th of April QDN partnered with QShelter to host a forum focusing on Home and Living options under the NDIS to help inform our submission to the NDIS review.
This information and the rich conversation is invaluable to ensure our submission reflects what people with disability and the services that support them are experiencing, both in terms of barriers and the potential solutions to explore so that NDIS Home and Living options support people to live their best lives.
Key issues raised were the lack of accessible and affordable housing options for people with disability, the complexity NDIS support system, the need for support to access the NDIS, and access assessments.
Thank you to everyone who came along to share their experience, expertise and stories.
QDN Life Member Uncle Willie invited to open Disability Reform Minister Council meeting
On Friday 21 April, QDN Life Member Uncle Willie Prince did an acknowledgement of Country to open the Disability Reform Minister Council meeting, hosted by Minister Crawford at Parliament House.  Uncle Willie gave the acknowledgement of Country at the meeting which was attended by all the state and territory Ministers and a great opportunity for Uncle Willie and for QDN.
Digital Inclusion workshops coming to Acacia Ridge and Deception Bay
We are excited to announce that our Digital Inclusion team will soon be delivering workshops in Deception Bay and Acacia Ridge! These workshops are a great opportunity to come along to get support and learn how to get online, use your device, and be safe doing so.
If you'd like to learn more about the upcoming workshops, visit the QDN website.
50% off 2023 Wheelchair Rugby National Championships for QDN members
Wheelchair Rugby Australia is running our National Championship on the Gold Coast, with a host of teams and leading athletes across the country, New Zealand, and America competing for the title of National Champions. We have secured a major broadcast deal with Foxtel and Kayo for the event and are really hoping to engage with leading local community groups to drive good attendance.
We would like to extend a discounted ticket offer to you and your community to attend our event held over the course of the championship weekend.
Wheelchair Rugby National Championship event details are below:
Dates: Friday 2 – Sunday 4 June 2023
Ticket Discount: Receive 50% discount code on tickets for SUNDAY 4 June (Finals Days)
Discount Code: COMMUNITY20
Link: https://events.humanitix.com/2023-santos-wheelchair-rugby-national-championship
Venue: Gold Coast Sports & Leisure Centre, 296 Nerang-Broadbeach Road
Times: Sessions start from 9:30am – 6pm daily. Gold Medal Final on Sunday 26 June at 2pm
Six Priority Areas named by Minister Shorten
On the 18th of April, Minister Shorten announced six priority areas for the NDIS scheme at the National Press Club. Those six priorities are:
The NDIA workforce: Minister Shorten has discussed increasing both the capacity and capability of the NDIA with the introduction of a specialised workforce with lifted staffing caps, improved processes and systems, returning call centre functions in-house and reduced staff turnover.
Long-term planning: Minister Shorten has announced a shift from short-term planning to long-term planning of the scheme with multi-year plans, however, three years plans have been the standard for the NDIA and there is no information about whether these plans will be longer than the existing three year cycle.
Addressing rising costs: Minister Shorten was clear that government would not be moving people off the NDIS with certain diagnoses and would continue to fund reasonable and necessary supports. he also discussed ensuring that people aren't paying higher fees for supports just because the NDIS is footing the bill, trialing a financial approach whereby payment were more related to outcomes as oppose to time spent, reducing lifetime costs and a trial of an early intervention program for children with autism aged between 9 and 15 months old in WA.
Better outcomes for Supported Independent Living (SIL): Minister Shorten has announced a review of SIL, without many details revealed about what this will look like, however has discussed the importance of housing supply, rental market accessibility, co-tenancy models, community housing and other innovative housing models to home and living outcomes.
Eliminating unethical processes: Minister Shorten discussed not only tackling crime in the NDIS, but unethical practices including pressuring participants to ask for services or support ratios they don't need; spending participants' money contrary to their plan, asking for or accepting additional fees for a service and offering rewards for taking particular services not on a participant's plan.
Increasing mainstream and community supports: Minister Shorten also announced an increase to supports outside of the NDIS so that individuals and families feel that they don't need to rely on the NDIS as the only means of support, again there was no mention of how this was going to be done and whether there are plans to renegotiate initial agreements with the States and Territories to prevent the Commonwealth overspending on the NDIS. However, Minister Shorten did emphasise the responsibility of States and Territories to provide high quality support to people with disability in the areas of healthcare, education, transport, housing and justice.
More information here (audio options available)
Watch the press conference here
Review of Disability Standards for Accessible Public Transport 2002
The Australian Government is reviewing Transport Standards and are seeking submissions in their review of the Disability Standards for Accessible Public Transport 2022. They have released a discussion paper which outlines the scope of the review, what they want feedback on and how you can have your say on whether or not the Transport Standards are working for you and any improvements that might need to be made. You can provide a written submission as well as sending in a video or audio recording to DisabilityTransport@infrastructure.gov.au or by telephone on 1800 621 372.
More information and access to the discussion paper here (Easy Read, videos and multiple language versions available)
Disability Royal Commission Report finds collaboration to be key to support Culturally and Linguistically Diverse (CALD) people with disability
The Royal Commission has published a commissioned research project written by researchers at the University of New South Wales and the National Ethnic Disability Alliance (NDEA) which lays out good practice for CALD people with disability.
The report has found that policies and programs that are already in place by governments, businesses, non-government organisations and community organisations are not being implemented, monitored and evaluated properly.
More information here
Disability service provider prioritised revenue over health and safety, Royal Commission finds
A report was published last month by the Royal Commission on Public Hearing 23, which explored the experiences of people with disability and their families of a day program service from the Australian Foundation for Disability (Afford) from 2016-2021.
More information here
Read the report (available in Auslan and Easy Read) here
Towards a National Autism Strategy
A National Autism Strategy is being developed with the goal of improving the lives of people with Autism at each stage of their life. The strategy will be co-designed with Autism CRC and is going to be informed by:
People with Autism
Their families and cares
The Autism sector
Researchers
An oversight council that includes a working group will also be part of the strategy development process. Autism CRC has also put out a survey to hear from the Autism community with early advice to inform the National Autism Strategy. The survey closes at midnight on 30 April.
More information here
Link to survey here
Funding for more accessible workplaces
More funding has been announced by the Australian Government to continue to boost employment for Australians with disability. There is increased funding for Auslan services and building modifications for accessibility.
Minister for Social Services Amanda Risworth has announced changes made to the Employment Assistance Fund (EAF), meaning people with disability will have more access to additional resources at work, including financial assistance for work-related modifications, equipment, disability awareness training and Auslan interpreting.
Part of these EAF changes is that Auslan interpreting services for work-related activities will double from $6000 to $12 000 per annum. The government will also get rid of the requirement for funding applications to be made ahead of time for Auslan interpreters to be available for job interviews and related activities.
This initiative will also be encouraging and supporting the private sector to provide appropriate support for people with disability in the workplace.
More information here
COVID-19 support for Disability Support Pension (DSP) recipients
The Australian Government is sending out text messages regarding COVID-19 vaccine boosters, these are legitimate messages that will provide information about how to access the Disability Gateway to access help with booking a booster vaccination. Messages from the government regarding the COVID-19 boosters will not contain any URLs as a means to update your personal details, or ask you to confirm any personal details.
Call the Disability Gateway phone line on 1800 643 787 to access help with booking appointments, information about getting tested for COVID-19 and accessible information about COVID-19.
More information here
Digital Inclusion
Peer support groups
29 April, 11am - Caboolture peer support group at the Caboolture Sports Club
5 May, 9:30am - Gympie peer support group at the Rusty Rails Cafe
26 April, 1:30pm - GrADS – Griffith Accessibility and Disability Support – Griffith Uni students only – Nathan Campus or online via Zoom
26 April, 4pm Self-management peer support group
27 April, 12pm - Rockhampton peer support group at CocoBrew
28 April, 9am - Brisbane Hot Topics peer support group at the QDN office or online via Zoom
3 May, 11am - MAC PSG – online via Zoom
5 May, 10:30am - Gold Coast Hot Topics at the Southport Community Centre
8 May, 4pm - QDN Y PSG – online with Zoom
DIDRR 
4 May, Emu Park Get Ready, Plan Ahead workshop Part A: Register here
5 May, Yeppoon Get Ready, Plan Ahead workshop Part A: Register here
QDN Membership
If you or someone you know would like to be a QDN member apply here:  https://qdn.org.au/membership/qdn-member-application/