We would like to thank the keynote speakers who have shared their experience and wisdom so far.
Topic: Working with Government Systems Geoff Rowe - 22nd June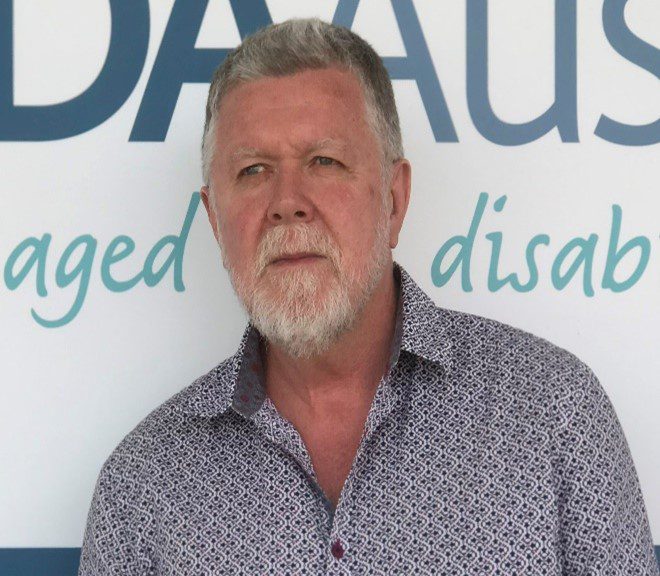 Geoff Rowe
Chief Executive Officer - ADA Australia
Geoff Rowe has been the Chief Executive Officer of Aged & Disability Advocacy Australia (ADA Australia) since September 2014.
Geoff's career in the human services sector spans more than 40 years, including fifteen years in senior and executive positions in the Queensland Government, and more than 20 years in the not-for-profit sector.
On leaving university Geoff established the Gold Coast Youth Service delivering a street work service to homeless youth on the Gold Coast in the early 1980's.
In government Geoff undertook many roles including Manager of the Grants and subsidies Branch, Regional Director (Brisbane North), Director Office of Disability and Executive Director Disability Services.
Prior to his current role, Geoff held senior roles with Endeavour Foundation and the Cerebral Palsy League of Queensland.
Geoff was previously the community representative on the Physiotherapists Registration Board of Queensland, Independent Chair of the Strategic Governance Group for the Non Schools Organisation Program (Education Queensland) and a Director on the Board of QCOSS, as well as an Older Persons Advocacy Network (OPAN) representative on the National Aged Care Alliance (NACA).
Geoff is a member of the Notifications and Immediate Action Committees of the Medical Board of Australia, as well as a Board Director at Elder Abuse Action Australia (EAAA).
In November 2018 Geoff was awarded the prestigious Paul Tys Churchill Fellowship to study world's best practice in preventing and responding to Elder Abuse in aged care and the community.
In 2019 Geoff traveled to the UK, Canada, USA and New Zealand to complete his fellowship.
He has a strong interest in social justice and inclusion, as well as old Jaguar cars.
Topic: Past Emerging Leaders (Pat Heaton and Barbara Reed) - 25th May
Patrick J Heaton
Hervey Bay QLD
I have been living with Acquired Brain Injury (ABI) for most of life only diagnosed in recent years as Chronic traumatic encephalopathy (CTE). I am a passionate Peer & Advocate involved in my local community groups a great believer in "Empowerment through Conversation".
I can often be found boiling the billy beside my camper in a National Park. 
Topic: Introduction to Advocacy with Fran Vicary - 27th April
Fran Vicary
Director of Engagement, NDIS Quality and Safeguards Commission
Fran Vicary is the Director of Engagement with the NDIS Quality and Safeguards Commission. This is a role that brings together her passion for empowering people with disabilities and her skills in managing change in the disability sector. Fran is really interested in supporting innovation during times of rapid change.
Fran has a strong belief in community participation, equity and the realisation of human rights for all people with disability. She has been involved in the disability sector since 1999, when she moved to Brisbane from country Queensland.
Fran has worked in the vocational education sector, women's health, and as the Chief Executive Officer of Queenslanders with Disability Network before spending almost two year in Melbourne as Director of the Independent Living Centre. She returned to Queensland and was Senior Operations Manager with a disability provider. She has worked in all three segments of the disability sector – not-for-profit/advocacy, direct service provision and Government.
As a woman with a disability, Fran knows how important good support is and works with providers, participants and others to enhance the quality and safety of NDIS supports and services.
She describes herself as a feminist, partner to Simon, and loves the arts and literature – and her dogs.
You might also be interested in